Tuesday 18 August 2020
Kapshagai's Water Dramatically Dropped
0 forum post
TALDYKORGAN (KazTAG) — Water in the Kapshagai Reservoir in Kazakhstan has decreased by 2 bln m³ in 2020 due to the situation in China, the Ministry of Ecology, Geology and Natural Resources of Kazakhstan (MEEGPR) stated.
The MEGPR press office said:.
The current volume of the reservoir for now is 14,640 m³, the inflow 374 m³/s, the outflow 500 m³/s. The volume of water in the reservoir is 2 bln m³ less than last year's, this is due to the fact that a low-water cycle has started in the China basin.
Earlier, photographs of the Kapshagai Reservoir appeared on social networks, showing that water volume has decreased. "We need a truce on water. The water is leaving. The level is 2.5 metres lower than usual", wrote Iskander Kubeyev, a resident of Almaty, who posted photos and videos on his social network page.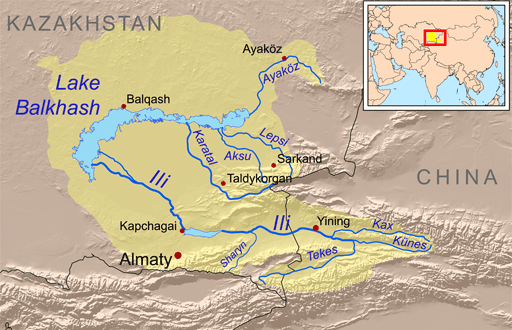 Kapchagay Reservoir, also spelled Qapshaghay Bogeni Reservoir and sometimes referred to as Lake Kapchagay, is a major reservoir in Almaty Region in south-eastern Kazakhstan, approximately 60 km north of Almaty. The 140 km long lake is formed by a dam on the Ili River which flows from the mountains in the east towards Lake Balkhash to the northwest. It is named after the town of Kapchagay, which is located on its western bank. During the summer months the lake attracts a number of tourists from Almaty, who frequent its beachy shores on the weekends.
The Kapchagay dam was completed in late 1969 and began slowly filling the reservoir over a period of 20 years. The hydropower project was considered to be important as the lake was expected to provide an abundant supply of water for irrigation to support the arid agriculture of the region. Environmentalists, however, have expressed deep concern about its impact on Lake Balkash, as the water balance has been seriously disrupted. Between 1970 and 1985, the volume of Lake Balkash declined by 39 km³ to directly feed the Kapchagay Reservoir, and by 1987, Lake Balkash had reached its all-time low point in volume, dropping roughly 2.2 m in depth. However, in 1988, this situation improved when the volume of Balkash increased once more from river discharge from the east, although water quality has been significantly degraded and has become increasingly saline.