Wednesday 11 March 2020
IranAir Resuming Flights to Europe
0 forum post
TEHRAN (Press TV) — Iran's main airline Homa, known internationally as IranAir, will resume flights to Europe after a four-day hiatus that came because of unspecified restrictions by European authorities.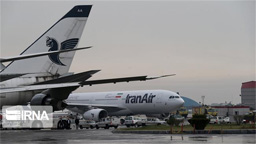 Homa said in a statement on Tuesday that flights to all European destinations will resume as of Wednesday March 11, 2019. The statement said that resumption of flights had been made possible through intense negotiations with European authorities involving Iran's foreign ministry and the civil aviation authority (CAO). The airline said passengers should keep in touch to obtain more information about the resumed flights.
Homa said on Sunday that it would suspend all flights until further notice to all European destinations, insisting that the halt had been caused by unknown restrictions imposed by the European authorities.
CAO officials had denied reports that the restrictions were related to the spread of a new coronavirus in Iran while blaming the United States, which has been pressuring European countries to limit or stop flights from Iran, for the new situation.
Iran's ambassador to France Bahram Qassemi reacted to the restrictions on Monday by saying that the measures should be regarded as disgraceful at a time Iran is needing help to fight a highly-contagious infection.
Homa and other Iranian airlines have suspended some of their flights to destinations in the Middle East and in the Southeast Asia region mainly because of the surge in the number of coronavirus cases both in Iran and in other countries.
According to official government figures, more than 9,000 cases of COVID-19 have been reported in Iran since the beginning of the epidemic, including 354 deaths.
---
View online : Afghanistan and Iran to watch closely