Sunday 3 February 2019
Iran Vows to Make "Strategic Leap"
0 forum post
MOSCOW (TASS) — Iran will be forced to make a "strategic leap" if European or other countries try to limit its missile might, Brigadier General Hossein Salami, the second-in-command of the Islamic Revolutionary Guard Corps, has said.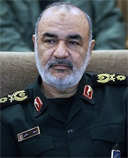 "If the Europeans and others want to pursue the missile disarmament of the Islamic Republic of Iran based on a conspiracy, we will have no option but to resort to a strategic leap", Salami told Press TV.
Salami noted that Iran does not have technical limits to expand the missile range, the destructive power and the propulsion system. Tehran's policy is aimed at maintaining a certain cap on the range of the missiles based on its own defensive strategy.
According to Press TV, the remarks came amid statements of some EU governments that Iran needs to avoid long-range missile tests in order to enjoy economic benefits of the 2015 Joint Comprehensive Plan of Action, known as the Iran nuclear deal.
On Saturday, Iran's Defence Minister Amir Hatami announced that Tehran had successfully test-launched its new Hoveyzeh long-range cruise missile. According to Hatami, the missile would be fully ready for the use in the short term and would be able to fly at low altitude and its flight range reaches over 1,350 km. The missile is the most important achievement of Iran's defence sector after the Soumar cruise missile, with the flight range of 700 km, which was unveiled in 2015.