Friday 27 July 2018
Iran's Foreign Ministry Rejects Saudi Envoy's Claims
Keywords:
0 forum post
TEHRAN (Tasnim) — Iran's Foreign Ministry dismissed recent claims by Saudi ambassador to the US against Foreign Minister Mohammad Javad Zarif as "empty and ridiculous".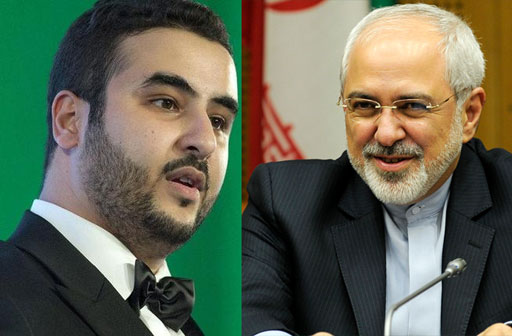 Saudi Ambassador to the United States Prince Khalid bin Salman called on Monday for confronting Iran's malign behaviour, instead of appeasing it. He said in an article published by Arab News that it "is encouraging to hear U.S. President Donald Trump make clear that we will not approach Iran with the sort of appeasement policies that failed so miserably to halt Nazi Germany's rise to power, or avert the costliest war ever waged."
He specially charged Zarif:
The Iranian regime's foreign minister Mohammed Javad Zarif desperately attempts to present a moderate face outside his country. He doesn't even try at home, where such networks are banned, demonstrating that what he says is mere lip service to the West. President Hassan Rouhani similarly seeks to beguile the world with talk of reformers who might one day replace the 'hardliners' holding the levers of Iranian power. It is an elaborate ruse from leaders who are part of, and benefit from, the same system of repression.
In reaction to this article; the Iranian Foreign Ministry, in a statement released on Thursday, rejected Saudi Ambassador claims against the Iranian top diplomat and said the remarks are "so ridiculous that they do not merit a comment". According to this statement, it should just be noted that the Saudis and their "rookie" ambassador cannot count on their "forlorn attempts" to create discord and continue anti-Iran centres' propaganda campaign aimed at undermining the country's national unity.
Relations between Tehran and Riyadh have strained over the past years after their conflicting views on regional developments, particularly on Yemen and Syria, became more noticeable. The relations further deteriorated after a crush of pilgrims in Mina, near Saudi Arabia's Mecca, in September 2015, which killed over 7,000 Hajj pilgrims, including 465 Iranians. Tehran has blamed the deaths on the Al Saud's mismanagement of the Hajj pilgrimage and criticized Riyadh for "lack of cooperation" on restoring the rights of families of the victims.