Wednesday 1 August 2018
Indian FM Set to Visit Kazakhstan
Keywords:
0 forum post
ASTANA (KazInform) — Minister of Foreign Affairs of India Sushma Swaraj is set to pay an official visit to Kazakhstan on August 2-3. During the visit, the Indian minister will hold a bilateral meeting with Foreign Affairs Minister of Kazakhstan Kairat Abdrakhmanov.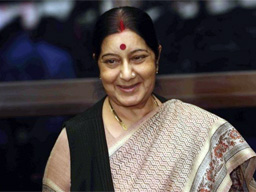 India and Kazakhstan have developed close collaboration in fighting religious terrorism an extremism, as well as in promoting regional security. A joint memorandum signed in December 2002 enabled joint projects such as training military officers, developing joint military-industrial projects and establishing a partnership between the defence industries of India and Kazakhstan. India has also provided support and emerged as a partner in Kazakhstan's bid to develop a naval fleet in the Caspian Sea, despite opposition from Russia. The Kazakh President Nursultan Nazarbayev visited India in January 2009 and a civil nuclear pact were made with India under which the uranium-rich Central Asian country will supply fuel to atomic plants in India.
The two countries held the Prabal Dostyk joint military exercises in Kazakhstan in 2016 and the Himachal Pradesh region in 2017.
On August 2, Sushma Swaraj will meet with Indian community in Kazakhstan. The meeting with Prime Minster of the country Bakytzhan Sagintayev is scheduled on August 3. The Indian community in Central Asia consists mainly of students, businessmen, workers, and representatives/employees of Indian or foreign companies. There is a respectable presence of managers, entrepreneurs and traders.
The Indian Cultural Centre in Almaty is active in projecting Indian culture. Several Indian cultural festivals have been held in Kazakhstan.
The Indian community in Central Asia is bound to grow in view of its strategic and economic importance.