In 2011 Kazakhstan Railways Constructed 87 New Stations
Saturday 7 January 2012
ASTANA (Kazinform) – According to the press service of the Kazakhstan Railways JSC in 2011 the national company has constructed 87 new train stations.
The potential of Kazakhstan to act as a transit in the trade between China, Europe, and even the eastern coast of America, as envisioned in the Trans-Asian Railway proposal, has not yet been fulfilled. Current rail transport between China and Europe as part of the Eurasian Land Bridge goes over the Trans-Siberian railway, is lengthy, and requires bogie exchanges.
KTZ is engaging on the TransKazakhstaniTrunk Railways (TKTR), a major railroad project to link China and Southeast Asia to Europe for a length of 3,900 km. China and most of Europe use the standard rail gauge of 1,435 mm, and the TKTR will utilize the same gauge, avoiding costly delays at bogie exchange stations. The route to Europe will be shortened and laid out for high speed. It is estimated that it will be possible eventually to ship cargo in 7-10 days (half the current time by rail) from China's ports to Europe. The sea transport takes about 40-65 days. A similar project was already proposed in the 1930s but vetoed by Joseph Stalin. The railway would also open up areas of Kazakhstan for exploration of minerals and oil. Currently the plan is to run the railway through Turkmenistan to Iran; Iran is linked to Turkey and Europe's standard gauge system.

The press service of the Kazakhstan Temir Zholy has announced that last year the national company has constructed 87 new train stations. Quoting the message of the press service, the Kazinform news agency has reported that the company has modernized 635 km of main lines, has taken 230 train stations onto balance and constructed 87 new train stations. Moreover, in order to renew the rolling stock of the company, Kazakhstan Railways has purchased 104 locomotives, 7,134 freight wagon and 34 passenger wagons. Additionally, they have increased the level of comfort of five passenger trains and introduced seven new itineraries.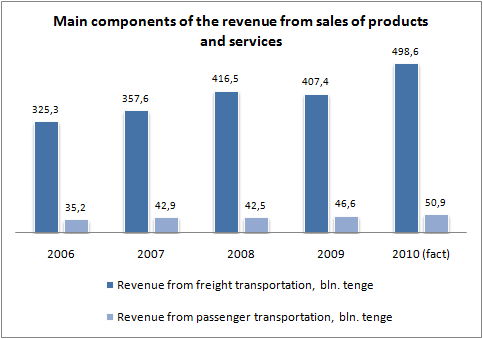 Kazakhstan Temir Zholy (KTZ, also National Company Kazakhstan Temir Zholy) is the national railway company of Kazakhstan and the largest employer in the country with more than 140,000 employees. It manages over 80,000 wagons, 50,000 of them state-owned, and the remainder in private hands. While most of the hauling is done by diesel engines, electrification of track is an ongoing project. The company is profitable and its 2008 revenues were 483.8 billion Kazakhstani tenge (US $3.9 billion). Kazakhstan has started to build wagons for KTZ and projects to produce locomotives in conjunction with General Electric (GE).