GE and KTZ Ink $900 mln Cooperation Agreement
Wednesday 17 January 2018
ASTANA (Interfax-Kazakhstan) – General Electric (GE) and Kazakhstan Temir Zholy (KTZ), the operator of the national railway system in Kazakhstan, signed two agreements totaling nearly $900 in value as a result of the state visit of Kazakh President Nursultan Nazarbayev to the U.S., the president's press office says in a press release.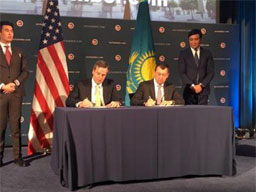 GE Transportation has signed two contracts, valued at over $900 mln, with Kazakhstan's state-run railroad Kazakhstan Temir Zholy (KTZ) for the delivery of 300 shunter locomotives as well as an 18-year service agreement. GE Transportation will manage the maintenance and repair of 175 passenger Evolution Series locomotives for at least the next 18 years.
Used in rail yards, shunters assemble trains and make short hauls. The first two shunters are expected to be delivered in 2019, with the remainder to be delivered over the next 10.
Previously GE Transportation and KTZ have contractually agreed on the delivery of more than 400 modernisation kits in 1995, that extended the revenue-generating life of KTZ's existing fleet by up to 20 years, the construction of the Evolution Locomotive Assembly plant in Astana in 2006, where more than 300 freight locomotives and eight passenger locomotives have been built to date, and long term service deals in 2009 and 2011 for the modernised and Evolution fleets.