First Congress of Kazakhstan Historians Takes Place in Astana
Saturday 17 September 2011
ASTANA (Caspionet) – At the first congress of Kazakhstan historians, the Minister of Education Bakhytzhan Zhumagulov announced that all historical literature will go through the expert examination of the ministry. In its turn, the ministry of education will strengthen scientific schools and encourage the best professionals.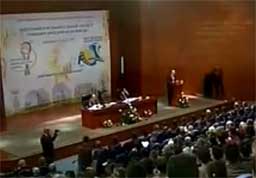 Kazakhstan will witness the establishment of a historical society. The Minister of Education asked the chancellor of the Eurasian National University to create a club of academics, which will involve the leading Kazakhstan and international historians. These academics will be developing the general concept of Kazakhstan history, develop the general methodology of the research and then develop this history in close connection with the world history. In this case, the academics will pay particular attention to the period from the collapse of the Soviet Union until today, since for adults it is their memory and for today's children it is their history.
The Kyrgyz Autonomous Soviet Socialist Republic was set up in 1920 and was renamed the Kazakh Autonomous Soviet Socialist Republic in 1925 when the Kazakhs were differentiated officially from the Kyrgyz. The Russian Empire recognized the ethnic difference between the two groups; it called them both Kyrgyz to avoid confusion between the terms Kazakh and Cossack. In June 1990, Moscow declared formally the sovereignty of the central government over Kazakhstan, forcing Kazakhstan to elaborate its own statement of sovereignty. This exchange greatly exacerbated tensions between the republic's two largest ethnic groups (Kazakhs and Russians), who at that point were numerically about equal. Beginning in mid-August 1990, Kazakh and Russian nationalists began to demonstrate frequently around Kazakhstan's parliament building, attempting to influence the final statement of sovereignty being developed within. The statement was adopted in October 1990. The parliament had named Nazarbayev its chairman, and then, soon afterward, it had converted the chairmanship to the presidency of the republic. On December 16, 1991, Kazakhstan had become the last of the soviet republics to proclaim its independence.