Farshchian Miniatures to Be Exposed in Astana
Monday 9 July 2018
ASTANA (KazInform) — The National Centre of Manuscripts and Rare Books of the Kazakh Culture and Sport Ministry will play a host to the exhibition Iranian art in Mahmoud Farshchian miniatures organized by the cultural centre of the Iran's Embassy in Kazakhstan.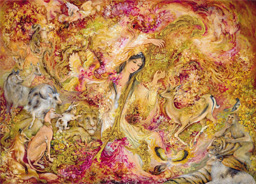 The exhibition is a part of cultural events, dated to the 20th anniversary of Astana city. The exhibition is scheduled to open on July 10. Kazakh Culture and Sport Minister Arystanbek Mukhamediuly, Counsellor of the Iranian Embassy in Kazakhstan, director of the Iranian cultural centre Masoud Sheikh Zeineddin, MPs are expected to take part in its opening.
Mahmoud Farshchian (age 88) is the founder of his own school in Iranian Painting, which adheres to classical form while making use of new techniques to broaden the scope of Iranian painting. He was born in the city of Ispahan where he started to learn art, painting and sculpting.