Tuesday 7 August 2018
Erdogan Meets with Venezuelan Minister in Istanbul
Keywords:
0 forum post
ANKARA (Ahval) — Turkish President Recep Tayyip Erdogan met Venezuelan Minister of Industries and National Production Tareck El Aissami in Istanbul yesterday. What they spoke about was not revealed.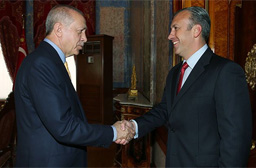 However, it was likely their discussions included the alleged assassination attempt on Venezuelan President Nicolás Maduro on Saturday during a military parade. The Turkish Foreign Ministry has called the events "deeply saddening" and pledged to stand behind Venezuela.
Relations between Turkey and Venezuela have strengthened in recent times, as both countries seek to blame the United States for their economic and social difficulties.
Last month, Maduro attended Erdogan's inauguration ceremony in Ankara, where he was sworn in as president, describing him as a "friend of Venezuela and leader of the new multi-polar world."