Tuesday 25 September 2018
Direct Air Service between Kazakhstan and Kuwait
Keywords: Kuwait
0 forum post
ASTANA (KazInform) — Kazakhstan and Kuwait debate direct air service.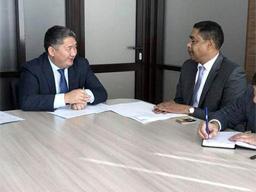 Today head of the Civil Aviation Committee of Kazakh Investments and Development Ministry Talgat Lasstayev has met with Extraordinary and Plenipotentiary Ambassador of Kuwait to Kazakhstan Tareq Abdullah Al-Faraj. The parties discussed issues on providing direct flights between the two countries.
Currently the national air companies of both countries have the right to perform up to seven passenger/cargo/combines flights a week bridging Astana and Kuwait. Kuwait has appointed three air carriers such as Kuwait Airways, Wataniya Airways and Jazeera Airways. Following the talks the parties agreed to further the work on coordinating and signing the intergovernmental agreement on air service between Kazakhstan and Kuwait.
The trade between Kazakhstan and Kuwait reached $284.1 mln, with exports totalling $260.9 mln in 2015. Private sector investment is a promising area of cooperation between the two countries.