Wednesday 17 March 2021
Demand for Gold Down 50% in February in Kazakhstan
Keywords:
2 forum posts
ALMATY (NBK press service) — In February this year, citizens of Kazakhstan bought 2,309 small bars representing 59.2 kg, a 47.4% decrease from a month earlier, the National Bank of Kazakhstan (NBK) said on Wednesday.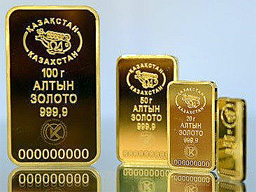 The Program of sale and repurchase of refined gold bars for the population was launched by the NBK in 2017. A total of 47,302 gold bars with a total weight of 1.74 tonnes have been sold since its launch.
Gold bars are available in five varieties: 5, 10, 20, 50 and 100 g. The 10 g bar is the most popular among buyers. It accounts for 28% of total sales — 12,932 pieces. This is followed by 100 g bars — 10,830 pieces (23%), 20 g bars — 10,637 pieces (22%), 5 g bars — 7,235 pieces (15%) and 50 g bars — 5,668 pieces (12%). The bars are mainly demanded in Almaty, Nur-Sultan (ex Astana) and Atyrau.
According to the NBK, gold bars can be a reliable investment instrument. The main factor ensuring the liquidity of the gold bar market is the possibility of buying back bars by banks and non-bank exchange offices, with same-day payment to the customer. Since the start of the programme, only 140 bars with a total mass of 3.7 kg have been accepted for redemption. This is because gold bars are a long-term investment and savings instrument.
Each gold bar is delivered with protective elements (a mirror surface, microtext and a raised edge) and in a special package that protects against mechanical damage and makes it easy to check whether the package has been opened or not. The protective packaging is also a certificate of quality. The NBK recommends that ingots be stored carefully and that the packaging not be opened.
Currently, gold bars can be bought and resold at Halyk Bank, Eurasian Bank, Jusan Bank, Bank CenterCredit, as well as at non-bank exchange offices.