Thursday 1 November 2018
CIS: Medvedev Arrives in Astana
Keywords: Russia
0 forum post
ASTANA (Interfax) — Russian Prime Minister Dmitry Medvedev has arrived in Astana for an official visit and will attend a meeting of the prime ministers of Commonwealth of Independent States (CIS) countries on November 2.
The agenda of the meeting will include 15 issues covering the main areas of multilateral cooperation in the CIS. The participants of the meeting will discuss topical issues of economic cooperation between the CIS member states. The heads of government are also expected to sign five intergovernmental agreements on cooperation in nuclear security, high-tech energy equipment production, joint activities in the exploration and use of outer space for peaceful purposes, prevention and elimination of forest diseases and pests in the border areas, and tax administration.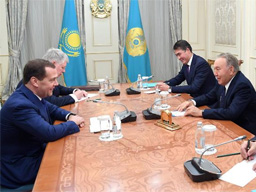 At a meeting with Medevedev, President Nazarbayev pointed out an important role of the Kazakh and Russian governments in broadening the trade-economic relations and strengthening interregional ties. Medvedev said Russian-Kazakh trade has risen 10% in 2018.