Thursday 31 May 2012
CIS Heads of Government Finalize Agreements in Ashgabat
Keywords:
0 forum post
(TASS) – CIS heads of government signed about 15 cooperation agreements during their meeting in Ashgabat on Wednesday.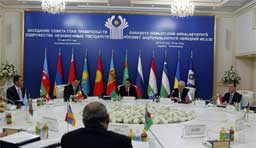 The participants agreed on measures to improve the efficiency of the common energy market and ensure better coordination of power grids throughout the Commonwealth of Independent States.
The CIS Heads of Government Council approved Uzbekistan's decision to join the free trade zone treaty.
Russian Prime Minister Dmitry Medvedev told that more CIS counties should sign up to the Free Trade Zone Agreement to ensure further integration of CIS nations. He added that an increase in the number of signatories to the treaty was a factor of paramount importance.
According to Dmitry Medvedev, the Commonwealth's inter-trade has recently grown by 36% to reach almost $300 billion. He pointed out the need for updating the CIS member-state economies. He said that Moscow suggests adopting a special provision on cooperation in the field of high technologies.