Home > Misc > Chevron Begins Work to Double Capacity at Caspian Pipeline
Chevron Begins Work to Double Capacity at Caspian Pipeline
Friday 1 July 2011
MOSCOW (Dow Jones) – The Chevron Corp. (CVX)-led Caspian Pipeline Consortium Friday said it has started a $5.4 billion expansion to double capacity to 1.4 million barrels a day by 2015.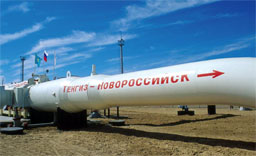 The Caspian Pipeline Consortium is a consortium and a pipeline to transport Caspian oil from Tengiz field to the Novorossiysk-2 Marine Terminal on Russia's Black Sea coast. It is also a major export route for oil from the Kashagan and Karachaganak fields. As of 2009, the CPC pipeline is the only oil export pipeline in Russian territory not wholly owned by Transneft.
Any message or comments?