Chevrolet Assembly Deal in Kazakhstan
Friday 16 September 2011
MOSCOW (Inside Line) – Chevrolet will start assembly in the fourth quarter of three new models at the Azia Avto plant in Kazakhstan, as a part of a recent agreement signed between General Motors Russia and Azia Avto, Kazakhstan's largest automaker, which produces more than 87% of all passenger cars in Kazakhstan.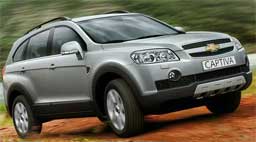 Among the new models scheduled for assembly are the Cruze hatchback, the Captiva SUV and the Orlando seven-seater MPV, according to Azia Avto Chairman Anatoly Balushkin. After the launch, the capacity of the plant is expected to grow up to 10,000 cars per year.
Azia Avto currently assembles six Chevrolet models, which are very popular in Kazakhstan. In the first seven months of 2011, sales of Chevrolet cars in the country more than doubled from the previous year. The Kazakh company also exports its cars to Russia, where Chevrolet for many years remains the best-selling auto brand (after local AvtoVaz), mainly due to affordable prices for its cars.
The main goal of Azia Avto is the foundation of a car industry in the Kazakhstan, permitting to produce competitive vehicles for the needs of the population of Kazakhstan and the nearbouring countries. Its strategy implies a stepwise formation of motor-car cluster – car-assembly plant creation; painting and welding production as its basis, sales and services network development.
GM traditionally has put big hopes on Kazakhstan, considering the local auto market as one of the most promising for its further growth in the former post-Soviet territory, along with Uzbekistan and Russia. The Kazakh auto market is steadily growing and, according to predictions by local analysts, by 2013 the annual sales of cars in the country should reach 250,000.