Tuesday 24 May 2011
Central Asian energy meeting opens in Baku
Keywords: CAREC
0 forum post
The Central Asia Regional Economic Cooperation (CAREC) Energy Sector Coordinating Committee (ESCC) is discussing cooperation in Baku.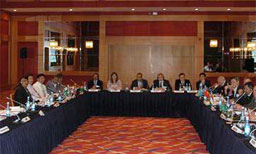 The energy committee meeting will discuss regional cooperation in the electricity sector, energy supply and demand, and national and regional energy security. It will also discuss technical issues, such as power system planning and operations, and opportunities for carbon finance trade among CAREC countries.
Senior government representatives of 10 countries (Afghanistan, Azerbaijan, People's Republic of China, Kazakhstan, Kyrgyz Republic, Mongolia, Pakistan, Tajikistan, Turkmenistan, and Uzbekistan) are attending the committee meeting.

Commenting on the Baku meeting, Levan Mtchedlishvili, energy specialist at the Asian Development Bank (ADB), noted: "The long term vision of the region's energy sector is to ensure energy security through the balanced development of the region's energy infrastructure and institutions, stronger integration of the region's energy markets to make available adequate volumes of commercial energy to all physical and juridical persons in a reliable, affordable, financially sustainable and environmentally sound manner. The role of the ESCC is to make sure that the achievement of the long-term vision for the energy sector in the region is pursued through economically and financially sound investment measures for regional cooperation, taking into account the interests of all states in the region. We would like to thank the government of Azerbaijan for hosting such an important meeting."

Azerbaijan's deputy minister of industry and energy, Natig Abbasov, said that his country's government would continue to support CAREC initiatives on energy cooperation.
The committee meeting will end on 25 May.
The Central Asian Regional Economic Cooperation organization was established in 1997 and is supported by the ADB, European Bank for Reconstruction and Development, International Monetary Fund, Islamic Development Bank, United Nations Development Program, and World Bank. CAREC's goal is to encourage economic cooperation among countries in the Central Asian region.