Caspian Five to Discuss Ban on Foreign Military Forces in Caspian
Thursday 9 August 2018
ASTANA (KazInform) — The presidents of the five Caspian nations will discuss the ban on deploying foreign military forces to the Caspian Sea at their summit in Aktau, the administrative centre of Kazakhstan's Mangistau region, on August 12, Kazakh Foreign Minister Kairat Abdrakhmanov told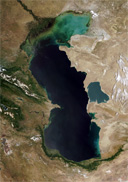 The Convention on the Legal Status of the Caspian Sea is balanced and takes into consideration the interests of all parties to the negotiating process, Kazakh Foreign Minister Kairat Abdrakhmanov told the state-run news agency Kazinform in an interview published on Thursday.
The Caspian, the world's largest enclosed body of water, is rich in hydrocarbon deposits. Once it was divided between the Soviet Union and Iran. But in 1992 the USSR's collapse created four successor states with Caspian shores — Russia, Kazakhstan, Azerbaijan and Turkmenistan — and threw the status of the sea into a generation-long morass of diplomatic wrangling.
The question of determining the legal status of the Caspian Sea have gained relevance after the collapse of the USSR, when the emergence of new subjects of international law — Azerbaijan, Kazakhstan and Turkmenistan — raised the question of the delimitation of the Caspian between the five countries. The difficulty of determining the status of the Caspian sea are related, in particular, with the recognition of its lake or sea, the delimitation of which is governed by different provisions of international law.
Senior researcher at the international studies department, Kazakhstan Institute for Strategic Studies, Anastasia Reshetnyak shared her views concerning the forthcoming Summit of the Heads of State of Caspian Littoral States, Kazinform reports:
For the last 25 years the issue concerning the Caspian Sea legal status has been essential for all five parties. We see that the positions of the parties keep on narrowing lately and it brings hope that the sides will come to a consensus. The draft Caspian Sea Legal Status Convention was developed last December. Kazakhstan's as well as foreign diplomats cautiously suggest that the Convention will be finally signed at the Aktau Summit.
According to Reshetnyak, the Convention is a fundamental document to regulate all relations at the Caspian Sea:
The process of signing was delayed for the parties had to deal with lots of issues. The nations signed a lot of documents to regulate certain spheres of cooperation. As for the sea-bed delimitation, Kazakhstan has completed separation with is neighbours in 2014. It was an achievement. And the Convention will formalize the success attained and approve their legitimacy within international law. Many of those agreements are bilateral.
At the beginning of the negotiation process the parties took quite tough stances that were contradictory in some issues. Reshetnyak resumed:
There were many nuances that should have been coordinated then. In this context Kazakhstan's position is advantageous for it rests on the UN Convention on the Law of the Sea as of 1982 with subtleties that would reflect the particular status of the Caspian Sea. The Caspian Sea is a unique lake, it should be treated particularly. Kazakhstan has worked much on rapprochement of positions of the nations"
Reshetnyak also highlighted great prospects to have the country's transit potential raised if the document is signed.