Friday 5 October 2018
Azerbaijan Suggests Parliamentary Assembly of Central Asia
Keywords: Azerbaijan, OSCE
0 forum post
BAKU (Trend) — Azerbaijan has proposed to create Parliamentary Assembly of Central Asia, the Vice-President of the OSCE Parliamentary Assembly (PA), member of the Azerbaijani Parliament Azay Guliyev said at the autumn session of OSCE PA in Bishkek on Oct. 4.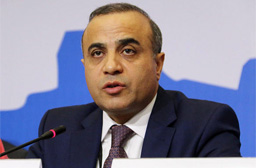 Guliyev talked about ways to further expand regional cooperation in Central Asia, putting forward a proposal to create a Parliamentary Assembly of Central Asia as a fertile platform in the field of parliamentary cooperation.
The autumn session of the OSCE PA, in which Azay Guliyev and MP Tahir Mirkishili are also taking part, started working in Bishkek, on Oct. 3.
A meeting of the Silk Road Support Group will be held during the session. Silk Road Support group is chaired by Azay Guliyev.
The Organization for Security and Co-operation in Europe (OSCE) is the world's largest security-oriented intergovernmental organization. Its mandate includes issues such as arms control, promotion of human rights, freedom of the press, and fair elections. It employs around 3,460 people, mostly in its field operations but also in its secretariat in Vienna and its institutions. It has its origins in the 1975 Conference on Security and Co-operation in Europe (CSCE) held in Helsinki.
The OSCE is concerned with early warning, conflict prevention, crisis management, and post-conflict rehabilitation. Its 57 participating states are located in Europe, northern and central Asia, and North America. The participating states cover much of the land area of the Northern Hemisphere. It was created during the Cold War era as an East-West forum.
The Parliamentary Assembly of the OSCE (OSCE PA) is an institution of the OSCE. The primary task of the 323-member Assembly is to facilitate inter-parliamentary dialogue, an important aspect of the overall effort to meet the challenges of democracy throughout the OSCE area. The PA pursues objectives which are stated in the preamble of the Assembly's Rules of Procedure:
assess the implementation of OSCE objectives by participating States; discuss subjects addressed during meetings of the Ministerial Council and summit meetings of OSCE Heads of State or Government;
develop and promote mechanisms for the prevention and resolution of conflicts;
support the strengthening and consolidation of democratic institutions in OSCE participating States;
contribute to the development of OSCE institutional structures and of relations and co-operation between existing OSCE institutions.