Thursday 16 April 2015
"Atyrau. Oil and Gas" Exhibition Gathers 100 Companies
Keywords:
0 forum post
ATYRAU (KazInform) –The 14th North Caspian regional exhibition called "Atyrau. Oil and Gas" has kicked off in Atyrau. The event will run for three days.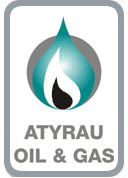 The exhibition is being attended by more than 100 companies operating in mining and processing of hydrocarbons, as well as construction industry. This year's exhibition has special sections Welding. Welding equipment and Coatings – anticorrosion coating of pipelines. According to organizers, these sections appeared because of the existing problems related to safety and smooth operation of pipelines and engineering structures.
During the exhibition it is also planned to carry out a drill session, which will discuss survey and drilling, technology of pumping drilling mud into wells.
The speakers of the session will be practicing managers of leading companies and reps of the government institutions. In addition, the conference will be attended by 150 delegates from around the world.
Exhibition sections:
Oil and gas production and processing
Oil and gas equipment
Oil and gas transportation
Engineering and consulting
Geophysical services
Environmental protection
Oil and gas field logistics
Ecological safety
Individual and industrial protection
Exhibition statistics:
Gross exhibition space: 3,020 m²
Exhibitors: 160
Visitors: 3,029
Sponsors: 5
Countries: 15
---
View online : Read also...