Monday 12 August 2019
Atambayev Charged with Corruption
Keywords:
0 forum post
BISHKEK (24.kg) – According to his lawyer Sergey Slesarev, former president of Kyrgyzstan Almazbek Atambayev was formally charged with corruption. agency.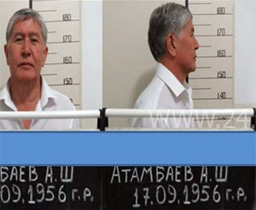 The lawyer said investigator of the Ministry of Internal Affairs brought the charge within a criminal case on the illegal release of the kingpin Aziz Batukaev:
The charge is unfounded. How can it be justified if my client was invited as a witness, but was not interrogated? He was immediately handed a notice of suspicion. This is the scenario that was originally planned. These actions are illegal because Almazbek Atambayev, as the ex-president, has immunity.
The lawyer cannot say whether Almazbek Atambayev will face other charges.
On August 7, the special forces of the State Committee for National Security of Kyrgyzstan attempted to storm Almazbek Atambayev's residence in Koi-Tash village. The storm failed twice. About 45 people were injured during the riots; the Deputy Commander of Alpha special forces died from a gunshot wound.
On August 8, special units of the Ministry of Internal Affairs carried out special operation to detain the former president Atambayev. All roads to Koi-Tash were blocked, communication was jammed, access to the Internet was blocked. At least 3,000 police officers and special machinery were pulled in to the epicentre. After a two-hour confrontation, the police managed to force the situation — Almazbek Atambayev decided to surrender. He was taken to the State Committee for National Security of Kyrgyzstan for interrogation. He is detained.
Preventive measure — detention in pre-trial detention centre of the State Committee for National Security until August 26 — was selected for Almazbek Atambayev at an offsite hearing of the Pervomaisky District Court of Bishkek tonight.