Friday 27 July 2018
Astana to Host WTO's Ministerial Conference in 2020
Keywords: WTO
1 forum post
WASHINGTON (WTO press service) — WTO members have accepted Kazakhstan's invitation to host, in Astana, the organization's Twelfth Ministerial Conference (MC12) to be held in 2020. The decision was taken by consensus at today's General Council meeting (26 July 2018) and marks the first time a Ministerial Conference is to be organized in Central Asia.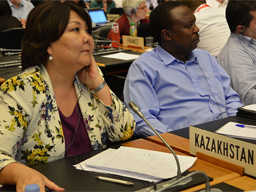 The conference will be held in June 2020 with exact dates to be determined. It will be attended by trade ministers and other senior officials from the organization's 164 members. The previous Ministerial Conference (MC11) was held in Buenos Aires in December 2017.
Kazakhstan's offer to host MC12 "demonstrates" its strong belief in the multilateral trading system", said WTO Director-General Roberto Azevêdo, thanking the Kazakhstan government for its invitation. "Coming from one of the newest WTO members, this is powerful", he added.
Kazakhstan joined the WTO in 2015, and only Afghanistan and Liberia have joined more recently — in 2016.
The Ministerial Conference is the WTO's top decision-making body and the Marrakesh Agreement establishing the organization instructs members to hold one at least every two years.
The full list of items for discussion at the General Council can be found here.