Astana's 20th Anniversary Celebrations in New-Delhi
Friday 6 July 2018
NEW DELHI (KazInform) — The Embassy of the Republic of Kazakhstan in India has arranged a diplomatic reception to celebrate the 20th anniversary of Astana.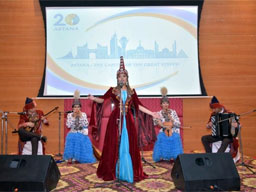 Attending the reception were Indian government officials, MPs, businessmen and public figures, mass media as well as diplomats accredited in New Delhi. Ambassador of India in Kazakhstan Prabhat Kumar and former Indian Ambassador to Kazakhstan Ashok Sajjanhar were the guests of honour at the reception. The guests warmly recollected their time in Kazakhstan and shared impressions of Astana's impressive pace of development.
In his remarks at the reception Ambassador of Kazakhstan to India Bulat Sarsenbayev highlighted Astana's historic milestones and lauded its role in the development of the entire country and huge contribution to strengthening international peace and security. A number of video clips about Astana's development were screened at the reception. Also, Nurorda folklore ensemble gave a performance to delight the guests of the event.
Meanwhile, President of Russia Vladimir Putin extended his congratulations on Astana's 20th anniversary in a documentary timed to the historical landmark for the entire Kazakhstan.
Previously, the Astana Day was observed on the 10th of June, because the city was officially unveiled as the new capital of Kazakhstan to the world on June 10, 1998. However, with amendments adopted to the Law On holidays in the Republic of Kazakhstan on July 18, 2008, the new holiday the Capital City Day, the 6th of July, was instituted. The decision was dictated by the fact that President Nazarbayev suggested moving the capital city to then-Akmola at the session of the Supreme Council of the Republic of Kazakhstan on July 6, 1994.