Friday 26 March 2021
Armenian Constitutional Court Drops Case against Ex-President
Keywords: Armenia
0 forum post
YEREVAN (AP) – Armenia's high court has ruled that criminal charges against the country's former president for a deadly crackdown on protesters more than a decade ago should be dropped.
The Constitutional Court ruled on Friday that the charges against Robert Kocharyan were based on a legal article that violated the country's highest law. Kocharyan, who held the presidency from 1998 to 2008, was accused of violating the constitutional order by using the police forces to disperse protesters in Yerevan on March 1, 2008. Eight protesters and two police officers perished in the clash while some 250 people were reportedly injured. This tragic is referred to as Marti mek (Armenian: Մարտի մեկ "March First") in Armenia.
Mr Kocharyan has rejected these accusations as a political revenge on the part of the current Prime Minister, who was one of the organisers of the 2008 rally.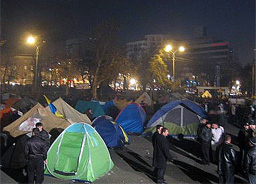 A series of mass protests were held in Armenia in the wake of the Armenian presidential election of 19 February 2008. Mass protests against alleged electoral fraud were held in the capital city of Yerevan and organised by supporters of the unsuccessful presidential candidate and first President of Armenia, Levon Ter-Petrosyan.
The protests began on 20 February, lasted for 10 days in Yerevan's Freedom Square, and involved tens of thousands of demonstrators during the day and hundreds camping out overnight. Despite the urges of the government to stop the demonstrations, the protests continued. On the morning of 1 March, police and army units dispersed the 700-1,000 persons who remained overnight.