Tuesday 20 September 2011
Armenia Participates in CRRF CSTO Exercises as Observer
Keywords:
0 forum post
YEREVAN (News-NEWS.am) – Armenia takes part in exercises of the Collective Rapid Reaction Force of the Collective Security Treaty Organization (CRRF CSTO) as an observer, press service of Armenian Minister of Defence told.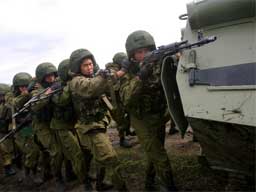 Anti-terrorist command exercises of CRRF CSTO in Central Asian direction within the frameworks of the strategic doctrine Center-2011 began on September 19 at the range of Russian 201st military base in Lyaur, Tajikistan. Major strategic trainings are also held in other regions, such as Ural and Volga Region in Russia, as well as in Kazakhstan and Kyrgyzstan. Exercise will last till the beginning of October.
Founded in 1992, CSTO features Russia, Belarus, Armenia, Kazakhstan, Uzbekistan, Tajikistan and Kyrgyzstan. Signatories would not be able to join other military alliances or other groups of states, while aggression against one signatory would be perceived as an aggression against all. To this end, the CSTO holds yearly military command exercises for the CSTO nations to have an opportunity to improve inter-organisation cooperation. The largest-scale CSTO military exercise held to date were the Rubezh 2008 exercises hosted in Armenia where a combined total of 4,000 troops from all 7 constituent CSTO member countries conducted operative, strategic, and tactical training with an emphasis towards furthering efficiency of the collective security element of the CSTO partnership.
In February 2009, an agreement to create the Collective Rapid Reaction Force (CRRF) was reached by five of the seven members. The force is intended to be used to repulse military aggression, conduct anti-terrorist operations, fight transnational crime and drug trafficking, and neutralize the effects of natural disasters. Belarus and Uzbekistan initially refrained from signing on to the agreement; Belarus because of a trade dispute with Russia, and Uzbekistan due to general concerns. Belarus signed the agreement the following October while Uzbekistan has yet to sign it.