Tuesday 18 July 2017
Arcelor Mittal Temirtau to Boost Steel Output to 5mln Tonnes/Year by 2022
Keywords:
0 forum post
KARAGANDA (Interfax-Kazakhstan) — JSC Arcelor Mittal Temirtau plans to increase hard steel production to five million tonnes a year by 2022, General Director Paramjit Kahlon told Interfax-Kazakhstan.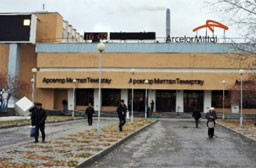 ArcelorMittal wants to increase crude steel production in its plant in Kazakhstan to five million tons by 2021, against four million tons in 2016, said the factory's chief. The group projects to invest $250 mln this year, told the press Paramjit Kahlon, who also manages the ArcelorMittal plant in Ukraine.
The Kazakh steel plant wants to increase its production to 4.2 mln tons this year and to 4.5 mln tons in 2018.
In Ukraine, ArcelorMittal plans to invest $267 mln in 2017 and a billion dollars in total by 2020, he said.
ArcelorMittal Temirtau is the largest producer in Kazakhstan's steel and mining sector. ArcelorMittal transforms locally mined iron ore and coal into high-value flat and long steel products, as well as large diameter pipes. ArcelorMittal Group is represented by ArcelorMittal Temirtau which operates the integrated steel plant, coal mines and iron ore mines, and by ArcelorMittal Tubular Products Aktau which operates the pipe plant, protective coating line, laboratory and testing complex and pipe yard.