Monday 16 July 2018
Aeroflot Launches New Flights to Kazakhstan
Keywords:
0 forum post
BAKU (KazInform) – Aeroflot, the famous Russian airlines, is launching regular flights between Moscow and Kazakh Kyzylorda city, the company said in a message.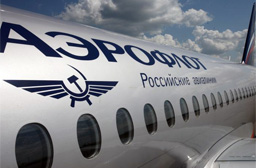 Flights will be carried out starting from July 15, 2018 four times a week on Airbus A320 and Sukhoi Superjet 100. Flights from Moscow will be carried out on Tuesday, Thursday, Friday and Sunday, flights in the opposite direction — on Monday, Wednesday, Friday and Saturday.
Moscow — Kyzylorda flight will be the ninth destination of Aeroflot in Kazakhstan. In summer season of 2018, Aeroflot increased the frequency of flights in two directions: to Astana (from 9 to 12 flights a week) and Aktobe (from 4 to 7 flights per week). In 2017, the passenger flow of Aeroflot between Moscow and the cities of Kazakhstan exceeded 600,000 persons.