Tuesday 10 September 2019
Snow Cover of the Too-Ashuuu Pass and Suusamyr Valley in Kyrgyzstan
Keywords:
0 forum post
BISHKEK (24.kg) — The Road Safety Department of the Main Department of Internal Affairs of the Chui Region asks drivers crossing the Too-Ashuuu Pass and Suusamyr Valley to replace their tires with winter tires or to carry non-slip chains with them.
Snow and ice are being cleaned on these sections of roads. These are four vehicle units; 75 tonnes of inert materials were used.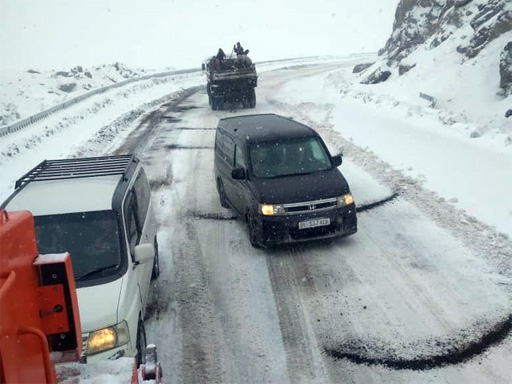 Too-Ashuuuu (also Teo-Ashuuu or Camel Pass) is one of the two automotive passes on the Kyrgyz ridge. The highest point of the pass is 3400 m above sea level. It is a key element of the Bishkek-Osh Road that connects the north and south of the country and was in ancient times the most important pass of the Great Silk Road. The northern and southern slopes of the upper part of the pass are connected by a tunnel 2.2 km long.