Tuesday 20 June 2017
Russia, Kyrgyzstan Agree for Anti-Terrorist Cooperation
Keywords:
0 forum post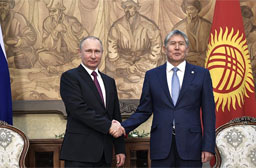 MOSCOW (Sputnik) — Russia and Kyrgyzstan have agreed to step up anti-terrorist cooperation as part of international groups including the Collective Security Treaty Organization (CSTO) and the Shanghai Cooperation Organization (SCO), Russian President Vladimir Putin said Tuesday.
"We agreed with the Kyrgyz partners to continue close coordination in the fight against terrorism and the spread of extremist ideology", Putin said after a signing ceremony of bilateral agreements.
He added that the sides "expressed support for intensifying cooperation in the area of anti-terrorism within the framework of international regional organizations, including the specialized structures of the CSTO and the SCO."
"Defence industry and military cooperation remain an important part of Russia's and Kyrgyzstan's strategic relations […] Today we also confirmed the joint understanding that the presence of the Russian military base in Kyrgyzstan is an important factor of ensuring stability and security in the Central Asian region, corresponds to long-term interests of other countries and all of our CSTO allies", Putin said after a meeting with Kyrgyzstan President Almazbek Atambayev.