Thursday 28 March 2019
Putin in Kyrgyzstan for State Visit
Keywords: Russia
0 forum post
BISHKEK (TASS) — Russian President Vladimir Putin arrived in Kyrgyzstan for a state visit on Thursday. The Russian president hold talks in Bishkek with his Kyrgyz counterpart Sooronbay Jeenbekov, and the two leaders took part in the Russian-Kyrgyz international conference.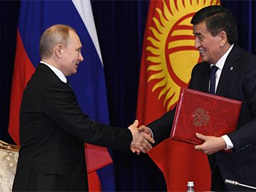 Kremlin Aide Yuri Ushakov earlier told reporters that the leaders are expected to sign a joint statement. Besides, a solid package of intergovernmental, inter-agency, regional and commercial documents will be signed in the presence of the leaders that cover cooperation in various areas.
Indeed, bilateral documents worth more than $6 bln have been signed between Kyrgyzstan and Russia. In particular, some Kyrgyz defence industry companies may be able to fulfil orders from state-owned companies in Russia.
Kyrgyzstan has placed one of the most liberal tax regimes in the region. Access to low-cost resources, including cheap labour and electricity, offers comparative advantages to joint ventures. Electricity prices are the lowest among the CIS countries. The country has a skilled workforce and a flexible education system that allows to prepare the necessary staff in a short period of time.