Saturday 28 February 2015
Kyrgyzstan Threatens to Nationalise Kumtor
Keywords: Kumtor Gold Mine
0 forum post
(The Conway Bulletin) – Kyrgyz parliamentarians threatened to nationalise the Kumtor gold mine by the end of March unless its Toronto-listed owner, Centerra Gold, agreed to a new joint-venture to run it. The ultimatum increases the stakes in the long-running battle for control of the gold mine – Kyrgyzstan's single biggest economic asset.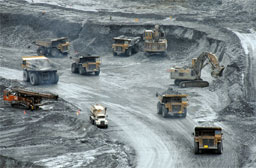 "We should finally end this epic", Reuters quoted parliamentary speaker Asilbek Zheenbekov as saying after the parliamentary vote. "Today we adopted a tough resolution."
The row over Kumtor has dented both productivity at the gold mine based in the eastern mountains of Kyrgyzstan and the country's GDP as well as its image as a place for foreign investors to set up businesses.
Centerra Gold has accused Kyrgyz nationalists of wiping up public anger against Kumtor through bogus environmental infringements. Kyrgyzstan has said Centerra Gold needs to run and manage Kumtor more effectively.
The Kyrgyz government wants to swap its 32.7% stake in Centerra Gold for a 50:50 joint venture with the company directly in Kumtor. Commenting on Centerra Gold's full year results last month, its CEO, Ian Atkinson, said he was studying the proposal. This non-commitment may be the source of the frustration felt by Kyrgyz lawmakers.
Now, the issue of Kumtor's ownership will once again move to the foreground, potentially destabilising the country and damaging for its reputation further.
Centerra is a North-American based gold mining company focused on operating, developing, exploring and acquiring gold properties in Asia, Canada and other markets worldwide. Centerra is the largest Western-based gold producer in Central Asia. Centerra's shares trade on the Toronto Stock Exchange (TSX) under the symbol CG. The Company is headquartered in Toronto, Ontario, Canada. Centerra Gold announced last week that its Board of Directors has authorized a quarterly dividend of CDN$0.04 per common share (approximately US$7.6 mln at the current exchange rate). The dividend of CDN$0.04 per common share is payable on March 19, 2015 to shareholders of record on March 5, 2015. The exdividend date will be March 3, 2015.