Wednesday 21 November 2018
Kyrgyzstan and Qatar Discussed the Prospects for Military Cooperation
Keywords: Qatar
0 forum post
BISHKEK (Kyrgyz Army press service) — The Chief of Staff of the Armed Forces of the Kyrgyz Republic received Abdullah Ahmad Abdullah Saleh al Suleyti, Ambassador Extraordinary and Plenipotentiary of the State of Qatar, to discuss military cooperation between the two countries.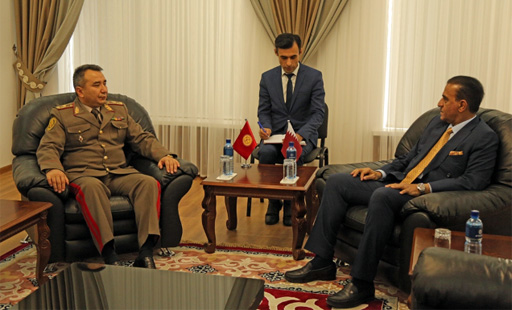 During the meeting, the current state and prospects of military cooperation between Kyrgyzstan and Qatar were discussed. According to the statement of the Kyrgyzstan General Staff:
Welcoming the guests, the Chief of the General Staff stressed that the Kyrgyz side wished to establish cooperation in a wide range of areas.
The parties noted the intensification of bilateral contacts between the armed forces of the two countries. For example, in early October, representatives of the Kyrgyz Republic General Staff visited Qatar to discuss issues of military and technical cooperation and to contribute to the development of the capabilities of the Kyrgyzstan armed forces in crises.
While limited in geographical size, Qatar benefits militarily from its important relationship with the West.