Monday 19 June 2017
Kyrgyz Operator О! Launched the "Oh! Music" Portal
Keywords:
0 forum post
BISHKEK (24.kg) — Music surrounds us everywhere, even small children sing, dance and move their pens to the beat of their favourite melody. In the morning we listen to her, taking a shower, having breakfast under the sound of music, we listen to her in the car on the way to work, we have dinner, we have supper, and we all just live with music.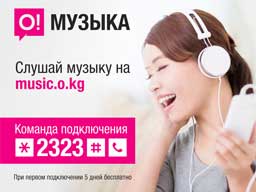 Subscribe to the new portal About! Music from the mobile operator Oh! and listen to the songs that the whole world dances to. Get access to a huge music collection from a smartphone, tablet or laptop:
Thousands of music tracks!
The first 5 days are free!
Zero traffic!
Tracks are easy to find by catalog, genres, playlists, thematic radio stations. Here you will find a suitable romantic compilation for a date, dynamic and invigorating music for training, driving dance hits for a party and much more.
Form your playlists in the mood and listen to music without borders for only 5 soms a day. When you first connect 5 days you will get free!
Dial * 2323 # (for free), receive the activation password in SMS and go to the site music.o.kg. You can use the portal by choosing the language — Kyrgyz or Russian. The collection is updated in real time and is constantly updated with new songs.
"Even 20 years ago, to find the right disk, we had to bypass not one dozen music stores. The older generation remembers well how difficult it was sometimes to get a record of your favourite artist. Now, modern technology allows you to get any song in seconds. On one platform of the portal About! Music all the best musical hits and novelties are collected," notes the commercial director of the mobile operator O! Maxim Sidorenko.