Iran Proposes Kyrgyzstan to Create a Medical School
Tuesday 18 July 2017
BISHKEK (AKI Press) — Minister of Health of Kyrgyzstan Talantbek Batyraliyev met with the delegation of Iran led by the Minister of Health and Medical Education of Iran Seyyed Hassan Ghazizadeh Hashemi on July 18 in Bishkek, Ministry of Health of Kyrgyzstan said in its statement. Iran proposed Kyrgyzstan to consider the idea of opening of a general medical university.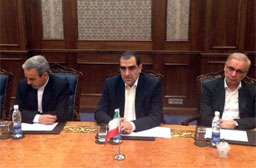 Bishkek hosted a bilateral meeting of Health Minister of the Kyrgyz Republic Talantbek Batyraliev and an official delegation of the Islamic Republic of Iran headed by Minister of Health and Medical Education Seyed Hossein Gazizadeh-Hashemi.
During the meeting, the sides discussed the issues of cooperation between the two ministries in terms of training and medical education.
The press service of the Ministry of Health of the Kyrgyz Republic reported that the Iranian side expressed its readiness to continue cooperation within the framework of the adopted long-term plan for investment and support in the medicinal sphere.
In turn, Batyraliev stressed the need to open an Iranian medical centre and branches of pharmaceutical plants in Kyrgyzstan, which would further strengthen cooperation in the medical field.
"It would be good if an Iranian medical centre was built in the republic, as well as branches of Iran's pharmaceutical plants. We are ready to develop cooperation in the field of transplantation and drug provision", said Batyraliev and assured that there will be no delays on the part of Kyrgyzstan in implementation of reached agreements.
Last week, Minister of Health of Kyrgyzstan Talantbek Batyraliyev met with Head of the University Hospital in Turkey and in Geneva Afksendiyos Kalangos agreed to sign a memorandum on construction of new medical centres that will meet international standards.