19% of Kyrgyz Budget to Back Currency in 2014
Monday 20 April 2015
BISHKEK (24.kg news agency) – About 19% percent of the Kyrgyz budget spent to back the national currency in 2014, the First Deputy Prime Minister of Kyrgyzstan Taiyrbek Sarpashev said today at a meeting of the Parliamentary Committee on Budget and Finance.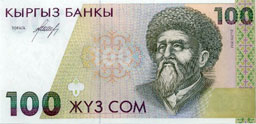 According to him, the peak of external debt will be in the next two years, so Kyrgyzstan should be extremely careful when borrowing abroad. If the level of public debt will reach 60% of GDP, the country can have default. However, while the government sees no reason for concern, the official said.
"In the first quarter of 2015 about 51% of the loans went to the construction of roads and capital investments. After a couple of years we will see the results of these investments. The official unemployment rate is 22%. In this case, in the first quarter of 2015 the macroeconomic growth is 3.6%", Economy Minister Temir Sariev said.
Monetary policy will remain cautious in 2015 as the central bank aims to limit inflation and stabilize the local currency. It will likely raise the policy interest rate again if inflation accelerates. Nominal interest rates should increase if the som depreciates further.
According to ADB, wide disparity in economic opportunity arises in part from limited financial development, which is a major obstacle to inclusive growth. Low domestic savings and high interest rates on loans, coupled with a shallow finance sector and inefficient financial intermediation, restrict access to affordable finance and thereby constrain private investment, particularly in the poor and rural areas that need it most.